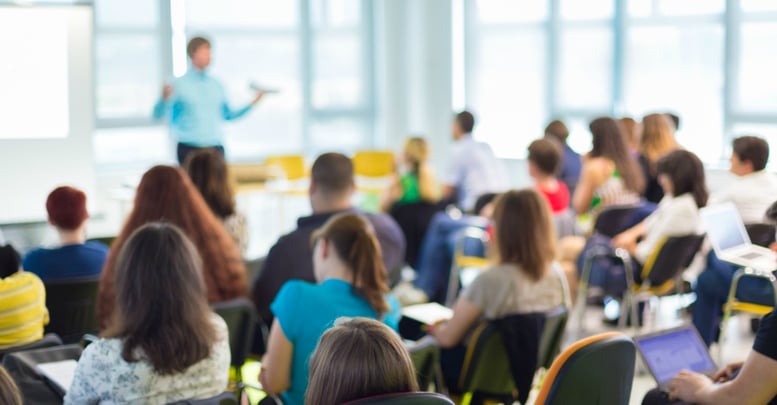 Integrity's Learning and Collaboration Center is officially launched! Connect with other business leaders and community members at the brand new fully-equipped learning and collaboration space in Bloomington-Normal. Why should you visit Integrity's Learning and Collaboration Center? Besides executive roundtables, small groups, and other rare opportunities to connect, the Learning and Collaboration Center offers community education classes that can broaden your skill set and help improve your business (and yourself!).
Here are just some types of skills that you can pick up taking community education classes at Integrity's new Learning and Collaboration Center:
1. Networking
While it may sound strange to call 'networking' a skill, it is. Opportunities to connect with others in the business community don't happen often enough. With a visit to Integrity's Learning and Collaboration Center, you'll have the time and structure you need to make strong connections. Plus, you'll hone your networking skills and be better prepared for the future.
SEE ALSO: Download our Disaster Recovery eBook for FREE
2. Marketing
Marketing can be complicated and takes different shapes for different businesses. Come take a community education class that focuses on marketing basics and find guidance in determining which route will be most effective for your business.
3. Communication
Effective communication is key to collaborating successfully. Communication requires nuance and calls for skills in dealing with many different personality types. At Integrity's Learning and Collaboration Center, take courses like 'PACE Palette,' which will help you better work with different personalities.
4. Productivity
Staying productive in the workplace can be a serious challenge. Community education classes that will teach you how to remain focused and eliminate distractions can be a huge asset to your skill set.
5. Business Development
Chances are, you're all too familiar with running a business or being heavily involved with operations. But, taking time out to develop your business is vital, too. With a visit to Integrity's Learning and Collaboration Center, you can learn valuable business development skills that will help your company grow.
6. Personal Development
Have you taken time recently to focus on personal development? The business world never stops moving and personal development is too often put on the back burner. With Integrity's Learning and Collaboration Center, you can focus on you and take courses in topics that will expand your unique skill set.
7. Leadership
Strong leadership skills are prized across the business community. Learn how to lead a group of people and take charge in your business. You'll learn stronger leadership skills among other leaders who are striving to improve.
8. Technology
Business and technology are now inseparable. If you tend to view technology as an encumbrance instead of a valuable tool, come expand your technology skill set at Integrity's Learning and Collaboration Center. Learn to leverage technology to make your day easier.
9. Applications
Beyond general technology, you can take community education classes on all kinds of applications (like Windows) that you use to do business every day. Struggling with a program? Learn to master it.
10. Security Awareness
Security Awareness can help prevent human error from endangering your company. Many security breaches start with an employee making an honest mistake. Improve your Security Awareness skills and you'll cut down on mistakes and keep your business safer.
11. Management
Managing takes a myriad of skills. It takes coming up with a strong vision and successfully applying it. Integrity practices Open Book Management, for example, empowering its employees to think and act like business owners through financial transparency and giving employees a stake in the outcome. Whatever your management style, you can always improve your skill set.
12. Organization
People try many things to stay organized: daily planners, calendar apps, and even post-it notes are used to keep things in order. Improve on your organization skills and you'll be better prepared to organize your business and your day.
Learn more about Data Security: