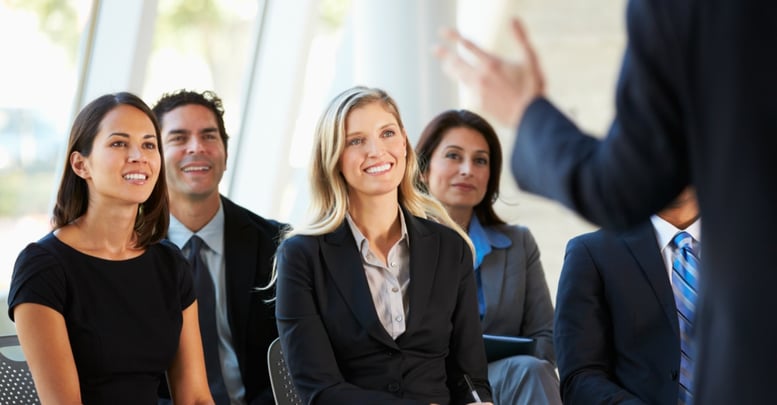 What kinds of community education classes can you take at Integrity's Learning and Collaboration Center?
If it has to do with business or technology, the answer is: almost anything! Integrity's Learning and Collaboration Center offers courses in general technology, software applications, cyber security awareness, productivity, marketing, leadership, communication, finance, and personal development (to name just a few). If you or your team is looking to improve, Integrity's Learning and Collaboration Center can help. You'll find it easy to learn new skills and easy to connect with others in the business community. 'Integrity Connects' is about bringing the business community together. When the business community comes together, it becomes stronger. Integrity wants to facilitate those connections and build up a business community it is proud to be a part of. With ample networking opportunities, Integrity's Learning and Collaboration Center is the perfect space to bring your team to expand their skill set and meet others who are doing the same.
FOR YOU: Tell us more about your business technology challenges
Here are a few upcoming community education classes that you can take at Integrity's Learning and Collaboration Center:
Collaboration Essentials for Office 365
The first in a three-part series happens on April 4th. Microsoft Office 365 is leading business collaboration software. It is a powerful, multi-faceted platform. This series will cover OneDrive, SharePoint, and Skype for Business. Attend one or all three and learn to master the tools that will make collaborating in your company easier.
PACE Palette
Red, Green, Yellow, Blue. Colors, yes. But, they also correspond to personality types within the PACE Palette. This course on April 5th covers how to effectively communicate with and work with different personality types. As you learn more about your personality and the personality of those around you, you'll be better prepared to work together successfully.
Office 365 - OneNote
Organize your office life with OneNote for Microsoft Office 365. OneNote makes organizing, planning, and keeping your day on track a breeze. Within Microsoft Office 365, there are extraordinarily powerful tools waiting to be used. This course will show you the ins and outs of OneNote. This course takes place on April 13th.
The ECHO Principle of Leadership
ECHO stands for Enthusiasm, Commitment, Honoring the follower, and Ownership transfer. All four principles are designed to help leaders understand how to successfully exercise influence. Leadership is a complicated pursuit and courses like this can help make more sense of things. The ECHO Principle of Leadership course happens on April 19th.
Windows 10 Essential Training
You may have Windows 10, but may not be comfortable using it. That doesn't have to happen. Take this April 26th course and you'll learn all the essentials that can help you understand and maximize this operating system.
Planning to attend any of the above sessions? Book your spot soon. Integrity's Learning and Collaboration Center is a community resource and it's time to take advantage of it to strengthen your team and your business.
Download our FREE eBook on Disaster Recovery Planning: