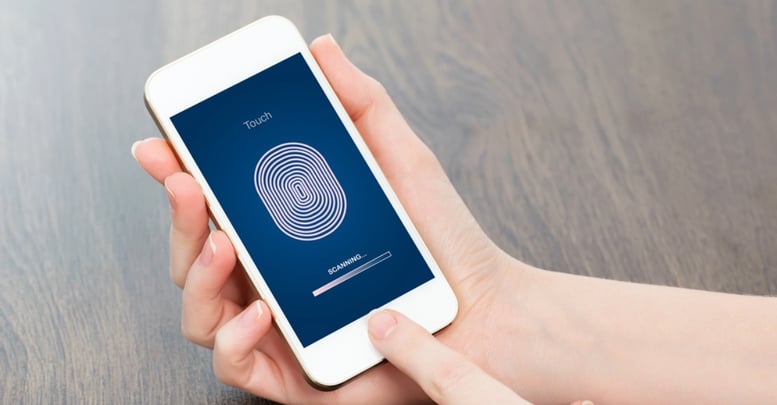 In an increasingly mobile world, mobile devices aren't often appreciated as a security threat. They're just 'there.' They sit in your pocket or on your desk during the day (when you're not holding onto it) and then sit on your end table or nightstand when you're at home. How could something ubiquitous go unnoticed as a data security threat?
When most people think about data security, they think about their workplace and their company's network. It is compartmentalized: work data stays at work. Except, it doesn't. Because of mobile devices and changes in how people work, company data - or access to it - often leaves with you. Data security isn't a workplace issue. It's something that should be considered at all hours of the day, no matter the setting. Below are some mobile data security tips that you can start using right now:
FOR YOU: Use our Data Security Checklist to make sure your business is safe
1. Lock It Down
For the sake of convenience, too many people leave their mobile devices unlocked. While there are some built-in operating system measures that try to enforce the use of a passcode, swiping pattern, or fingerprint scanner, it's important to be deliberate about securing your device. Treat your smartphone or tablet in the same way you'd treat your laptop: make access difficult. Should you leave your device unattended or lose it, that will help prevent data loss.
2. Keep It On Your Person
For as addicted to screens as most people now appear to be, there are times when mobile devices are inexplicably left unattended in public. If that device is used for work and contains company data, that is a huge problem. It is too easy to steal or attempt to break into a mobile device. Even if you're just jumping up to grab a cup of coffee, be mindful of your device and toss it into your pocket.
3. Install Anti-Virus Software
While anti-virus software won't protect your mobile device from every attack, it is a building block of mobile data security. Most anti-virus software will catch common viruses and can help put your mind at ease. Your mobile device isn't immune to viruses and without taking the necessary precautions, company data can be compromised. Install anti-virus software on your mobile device(s) and keep it updated.
4. Update Everything
Yes, it's annoying when your phone pings you with an update. It may require that it be plugged into a power source and it may take a long time. All that said, it is still important to do so each time a new software update becomes available. Even if it's not explicitly stated, many OS updates have vital security patches included. Neglecting to update your mobile device is inviting vulnerability. If you have company data on your device, you can't take any chances.
5. Public Wi-Fi is Public
It's in the name. Public Wi-Fi is presumed secure and that's a mistake. If you're working remotely and access company data on your mobile device over public Wi-Fi, that is a risk you shouldn't be taking. Sensitive data isn't secure over public Wi-Fi and it's a best practice to avoid it. Instead, access sensitive data only on Wi-Fi networks you can trust.
6. Backup Your Phone
Should anything happen that jeopardizes your phone and it needs to be wiped or is reset unintentionally, knowing you have a secure and up-to-date backup is a huge relief. While it's not recommended that you store company data on a mobile device, having a backup can still be a valuable tool in keeping the data you are storing, secure.
7. Stay Informed
Because cybercrime never rests, neither should you. Starting today, do some light research into common scams and data theft attempts. By knowing to look out for phishing attempts, ransomware attacks, and other tricks, you'll be better able to prevent crime and better prepared to address it if it does happen. Security Awareness can be a powerful defense against all forms of cybercrime, on your mobile device or anywhere else.
Is your business at risk? Find out where your vulnerabilities lie with our FREE IT Risk Assessment: