In June, Microsoft announced new Office 365 plans for small and midsize businesses. The plans are set to roll out October 1, 2014 and include a variety of new options for businesses of 1 to 250 employees. The new plans are:
Office 365 Business which includes full office applications (Outlook, Word, Excel, PowerPoint, OneNote, and Publisher) as well as Business cloud storage.
Office 365 Business Essentials which includes business class email, Office Online, online meetings, IM, video conferencing, cloud storage, and file sharing, but does not include full Office applications.
Office 365 Business Premium which gives you everything from full office applications to cloud storage to video conferencing and file sharing.
The new plans will replace existing plans over time. Prices are based on a per user per month charge with fees ranging from $5/user/month to $12.50/user/month. The goal of the changes was to create more choices and more flexibility to meet the changing demands of small businesses. The table below (from Microsoft) details what you get with each plan.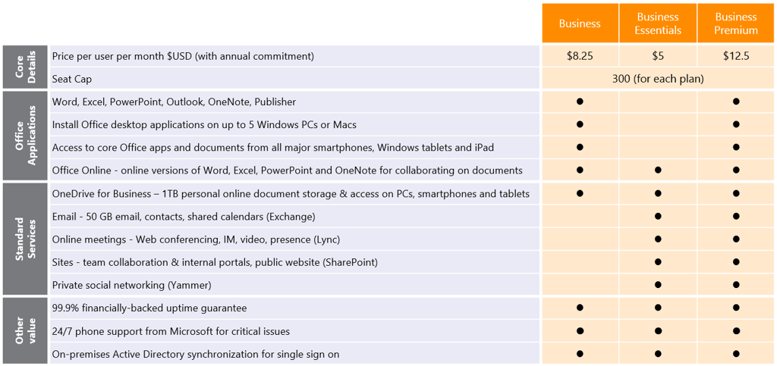 What does this mean for you?
If you are already a customer using Office 365, you will have 12 months to decide which plan is right for your business and make the change. Microsoft's policy is to give clients one year's notice prior to making any changes. You will need to decide by October 1, 2015 which new plan best suits your needs. If you are an Office 365 customer, you will receive a customized communication in your Office 365 Message Center in September that will outline new plan options and provide details about when and how to move to a new plan.
What do I do now?
Use your resources at Integrity Technology Solutions to answer any questions about the transition. You have plenty of time to review product offerings and decide which plan best suits your company.
Source: Old Site