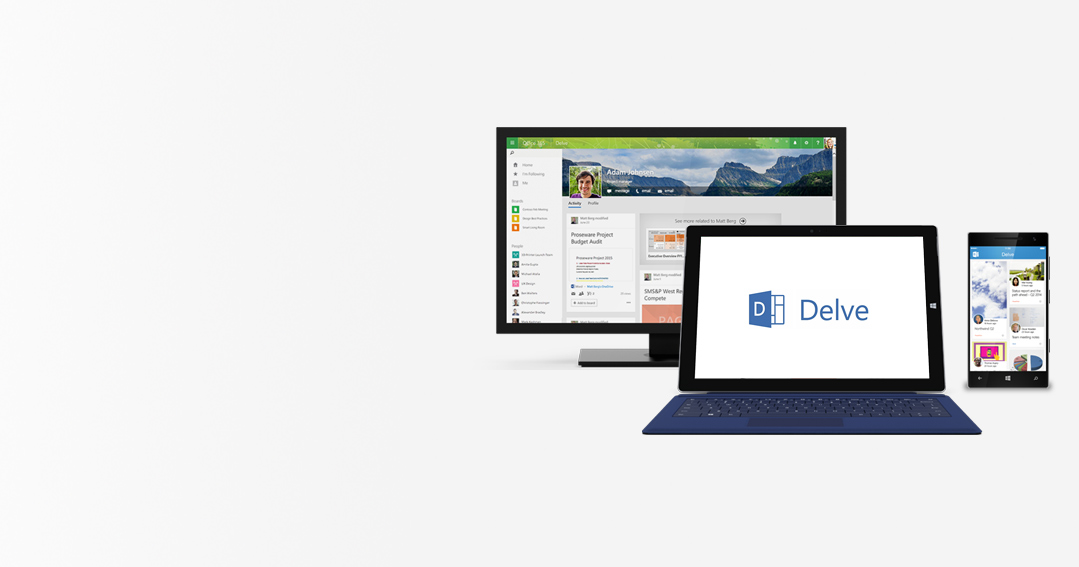 When Microsoft launched Office 365 they had a vision of helping people get more done, have greater flexibility in how they work and collaborate more effectively.
Throughout the course of our day we share and connect with others, which makes discovering the right information at the right time very important. Delve was introduced to help you discover this information, information that is most interesting to you across Office 365.
With Delve you don't have to remember the title of a document or where it is stored. Delve shows you documents no matter where they are stored in OneDrive for Business or SharePoint (Sites). Delve also lets you view your coworkers' profiles, or edit your own. Your profile is your business card within your organization. Those concerned with security are happy to hear that Delve never changes permissions, employees only see the documents that they already have access to.
All of this information is presented in a card-based design that is easy to understand and use.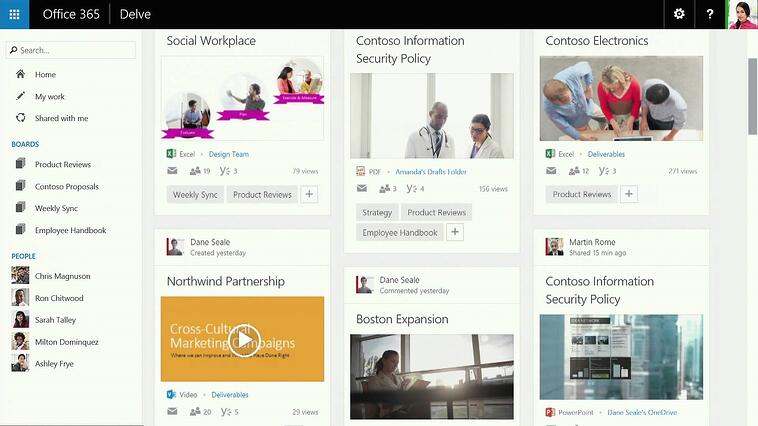 Delve knows what is relevant to you based on insights delivered through Office Graph. Office Graph uses machine learning techniques to map the relationships between content, people and activity that occurs across Office 365.
If you have an Office 365 business subscription, here are some tips on helping you get started with Delve:
Click on someone's name or picture to see the documents they are working on or to view their profile
Search for a topic you are interested in. You can also search for people if you do not see them in your list.
Add documents you are interested in to a board to easily get back to them later
Documents and boards can be added to your favorites list for easy access in the future
Some cards in your Home view may have a paper clip next to the title, and text saying when somebody emailed it to you. These are documents that have been shared with you as attachments in emails. The tile on the card is the file name of the document. When you click or tap an attachment, it opens in Outlook Web App, with the document and the email conversation side by side. You can edit a copy of the document and reply to the email. You can't add email attachments to boards, or find them through search.
Delve picks up the title from the document based on a set of rules. There are a few guidelines and best practices for titles. For Word documents, Delve will look at text using the Title style, text using Heading 1 style, text using a large font and if there is no likely title found in the document the Title property is used.
With Delve being offered on Android and iOS platforms it is easy to get started on many device types. Delve has helped many teams become more productive and have increased their overall adoption of SharePoint Online and OneDrive for Business. Delve surfaces information that most would not have looked for on their own. It has prevented many from "reinventing the wheel" by learning from the work being done by others across teams.