Today Microsoft announced that it is rolling out a preview version of Office for Android tablets, new Office apps for the iPhone, and updates to the Office apps for iPad.
With today's announcement, anyone can start creating and editing Office content on iPhones, iPads, and following the preview, Android tablets without the need for an Office 365 subscription. For those that have an Office 365 subscription, you will continue to gain the benefits of a full Office experience across your devices with advanced editing, including images and charts, and collaboration, Dropbox integration, and OneDrive storage. On the iPhone, the Office Mobile app is being replaced by individual apps for Microsoft Word, Excel, and PowerPoint. OneNote, Lync, Yammer, OneDrive (Consumer and Business), and OWA apps are also available for iOS and Android devices. Below are links to the respective apps or in the case of Android tablets the link to sign up for the preview.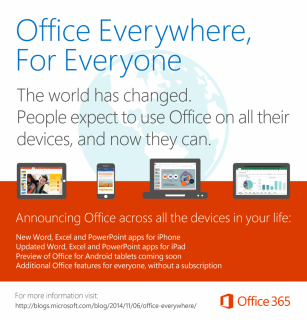 iPhone Office Apps
Office for iPad
Microsoft Word, Excel, PowerPoint
Office for Android tablets
For more information, read the Official Microsoft blog.
Source: Old Site